Welcome to King's Early Learners
Welcome to King's Early Learners. We warmly welcome you to our King's Baptist Grammar School community where this is the start of your child's enriching and positive learning journey with us. Family connections are so important to us, where we hope to build strong relationships with our families joining the King's Community.
King's Early Learners is a place that provides a warm and nurturing learning environment. We offer dynamic and inspiring early learning experiences for children aged three to five. Children learn through a variety of opportunities and experiences, where they are able to extend their ideas and skills through a hands-on and interactive approach both indoors and outdoors. Our caring, experienced and highly-qualified staff work closely with each child, enabling them to feel safe, secure and valued. Our children have a Primary Educator that oversees the needs and learning of the child and ensures that each child in our centre is nurtured and cared for. We believe this is critical for effective learning in the Early Years. We look forward to partnering with our families in this exciting start to your child's learning journey. We continue to be excited by the prospects for the future at King's.
Juliana Saunders,
Head of School
Our Philosophy
Our goal is to create a centre of excellence for children aged three to five years of age.
Our philosophy outlines the set of beliefs commonly held by our community of learners. It defines who we are, what we believe about people, and how we create an environment where learning can flourish.
Our Philosophy
Pedagogical Influences
A major influence will be the documented work of the educators from the city of Reggio Emilia in Italy. Reggio Emilia has worldwide acclaim and has influenced the work of thousands of teachers, educators, and researchers on all continents. Its influence is more than the Early Years (birth to 8) of life and has had far-reaching impact in all areas of education.

King's Early Learners will include elements of the Nature Play movement from Scandinavia and the Forest Schools of Scotland, the Inquiry Approach to learning, Project-Based Learning and Bush Kindy.
Hours of Operation
The ELC is is open 6:30am-6:00pm, Monday-Friday. King's Early Learners is open throughout the School Holidays except for the ELC closure over the Christmas and New Years periods.
Fees & Opening Hours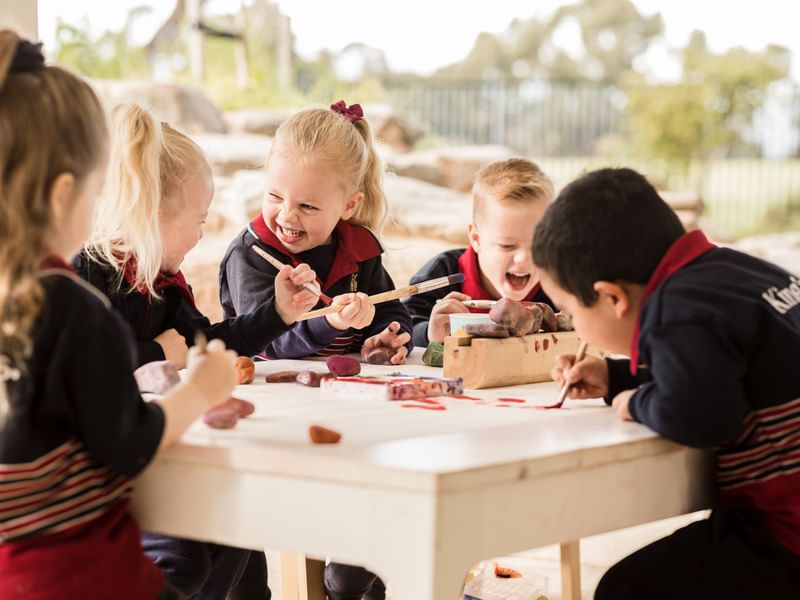 Signature Programs
Bush Kindy is the beginning of an Outdoor Education. We are fortunate to have local Bush Kindy sites that children visit to study, take care of, and closely observe nature. Children challenge themselves physically, and in their learning dispositions of perseverance and resilience, by climbing rocks and slopes and playing in puddles and, on occasion, splashing in a small creek.
Children plant and take care of herbs, vegetables, fruit, and flowers. The children explore using this produce in cooking experiences.
The Transition Program between the ELC and Reception is a strong one that grows throughout the year, so that children moving to Big School are familiar with the Early Years classes, teachers, play spaces, library, gym and chapel.